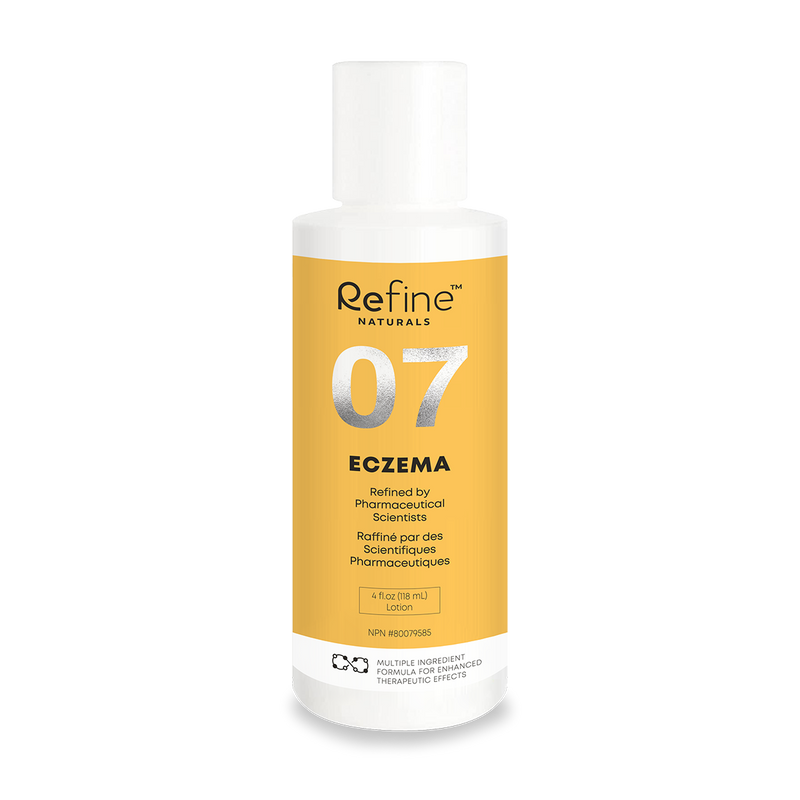 Refine Naturals™ ECZEMA Lotion
How To Soothe Eczema, Psoriasis, and Other Drying skin conditions with Refine Naturals Eczema Lotion
This eczema lotion is in high demand due to its anti-inflammatory herbal ingredients.


Easily apply skin ointment to the inflamed areas of your skin.

Contains antioxidants and natural healing ingredients such as Aloe Vera Extract, Jojoba Oil, Shea Butter oil and more..

Aloe Vera and Shea Butter Oil quickly soothe dry skin and replenish your skin's moisture barrier for extra protection.
Get relieve from skin irritation and itching due to eczema

Medicinal ingredients:
Avena sativa (Colloidal Oatmeal) - 1% w/w
Non-medicinal ingredients (alphabetically):
Acrylates/C10-30 Alkyl Acrylate Crosspolymer, Aloe Vera Extract, Bamboo Extract, Cetyl Alcohol, Dimethicone, Glycerin, Glyceryl Stearate, lsopropyl Myristate, Jojoba Oil, N-Acetyl Glucosamine, Phenoxyethanol, Shea butter, Stearic Acid, Triethanolamine, Vitamin E, Water (eau), Xanthan Gum.
RECOMMENDED USE OR PURPOSE
Helps relieve minor skin irritation, redness, dryness, itching due to eczema or rashes.
DIRECTION FOR USE
Apply directly to affected areas as needed. For stubborn flare-ups use frequently throughout the day. Use within 12 months after opening the product.
HAVE A QUESTION?
Manufactured exclusively for and distributed by:
C2C Healthcare Inc.
Lower Level, 360 Hwy 7 East
Richmond Hill, ON
Canada L4B 3Y7