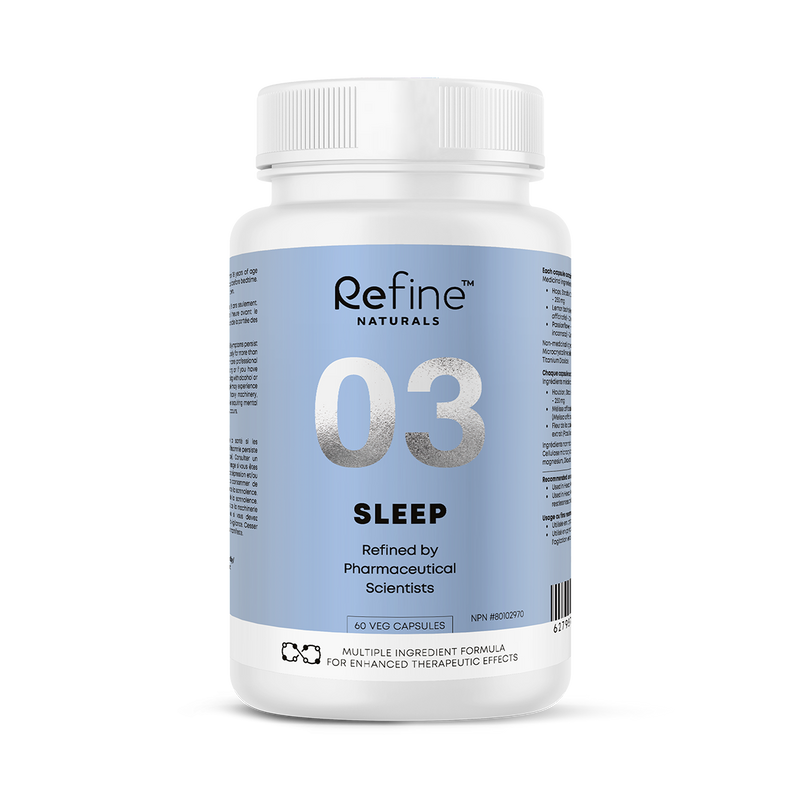 Refine Naturals™ SLEEP
Promotes restful sleep.
EACH CAPSULE CONTAINS
Medicinal ingredients:
Hops, Strobile 10:1 extract (Humulus lupulus) - 250 mg
Lemon balm, Herb top 4:1 extract (Melissa officinalis) - 200 mg
Passionflower, Herb top 10:1 extract (Passiflora incarnata) - 125 mg
Non-medicinal ingredients:
Hypromellose, Microcrystalline cellulose, Magnesium stearate, Titanium dioxide.
RECOMMENDED USE OR PURPOSE
Used in Herbal Medicine as a sleep aid.
Used in Herbal Medicine to help relieve restlessness and/or nervousness (calmative).
DIRECTION FOR USE
For use in adults more than 18 years of age only. Take 2 capsules once per day. Use for at least 1 week to see beneficial effects. Consult a health care professional for use beyond 18 weeks. Store at 15°C – 25°C. Keep out of reach of children.
HAVE A QUESTION?
Manufactured exclusively for and distributed by:
C2C Healthcare Inc.
Lower Level, 360 Hwy 7 East
Richmond Hill, ON
Canada L4B 3Y7
Great product!!
Improved quality of sleep within a one week of use also able to focus more during daytime.
Works great!!
I am using this product for couple of weeks now and I felt change in quality of my sleep, it got better. Moreover, I wake up refreshed in morning. I would recommend this product to others.